Whoa, Dude! Bill & Ted 3 Is Finally Going To Happen
We come bearing some most excellent news: after years of speculation Bill & Ted 3 looks more likely than ever.
The long-talked about sequel to Bill & Ted's Excellent Adventure (1989) and Bill & Ted's Bogus Journey (1991) is set to begin production either by the end of this year or early next, with actor Alex Winter (Bill S. Preston, Esq. if you were wondering) stating that it'll "hopefully be the former, [but] possibly the latter".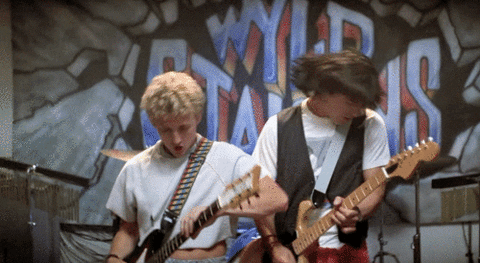 Speaking with Forbes, Winter has shed some much needed light on the proposed "threequel" in amongst discussing his recent documentary on rock heavyweight Frank Zappa. "We're knee-deep in the script, it's been written by Chris Matheson and Ed Solomon, who wrote the first two, they are fantastic writers, and the script is great," Winter explained. "We have a script, we have a director, we have a studio – we're just trying to nail down a start date."
And in case you were wondering, yes, Keanu Reeves is keen to revisit the film series that launched his career: "How the fuck would we make it if he wasn't on board? People always ask if Keanu's doing it and I'm like, 'No, I'm making a Bill movie'. Of course he's in it. I can't make a Bill & Ted movie without Keanu."
Party on, dudes!
Remember what made the first film so great with the original trailer below.